The History of the Bloody Mary
The Fernand Petiot Story
It was back in the 1920s when Fernand Petiot, an American bartender at Harry's New York Bar in Paris, mixed up equal parts of tomato juice and vodka. He had no idea that his concoction would become world famous when he agreed with the guy in the bar who suggested he call the drink "Bloody Mary." The patron said it reminded him of the Bucket of Blood Club in Chicago, and a girl he knew there named Mary.
In 1934, Petiot moved to the King Cole Bar at the St. Regis Hotel in New York City, and brought the recipe with him. The hotel managers tried to change the name to Red Snapper, but it didn't stick.
Sophisticated New Yorkers weren't too impressed at first. They said the drink tasted a bit bland, and they asked Petiot to spice it up. He added black pepper, cayenne pepper, Worcestershire sauce, lemon and--for those who wanted more spirit--a generous splash of TABASCO pepper sauce. And that's how an American classic was born.
In 1976, McIlhenny Company introduced TABASCO Bloody Mary Mix. It wasn't the first mix on grocery store shelves, but it was one true to Petiot's original. A spicier version was added a few years later.
The Mary Tudor Story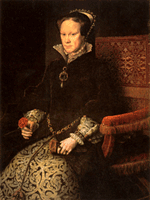 Mary Tudor, or Mary I of England, was a fascinating woman. As the daughter of Henry VIII, she saw much in her relatively short life. Henry's first wife, Catherine of Aragon, gave birth to the Princess Mary on February 18, 1516; she was heir to the throne of England. However, Mary was declared illegitimate when Henry divorced her mother in 1532 to marry Anne Boleyn, mother of Elizabeth I. She watched her father treat her mother as a whore, make a mockery of her beloved church, and virtually slap her and her mother in the face for all of England to see.
Mary is remembered for the hundreds of Protestants she murdered in the name of Catholicism. This is how she got her nickname "Bloody Mary." She died on November 17, 1558.
It also believed that the Bloody Mary drink is named for her.
See Also
Bloody Mary (cocktail)
Bloody Mary (person)